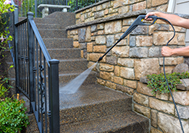 As you may know, curb appeal refers to how your property looks from the street, where potential buyers first see it. Your home's curb appeal can have a big impact on the sale of your property.
In fact, it's not uncommon for a buyer to drive by a listing, rather than stop, because they don't like what they see.
So, how can you improve your home's curb appeal quickly? One way is to do some outside cleaning.
Start with the main entryway. Wash down the front door and sweep (or power wash) the front steps. It only takes a few minutes, but you'd be surprised by the impact it can have. Sweep or power wash your walkway too and you'll improve the overall look of your home — sometimes dramatically.
Driveways are also important but are often overlooked. Sealing an asphalt driveway makes a big difference and it's relatively inexpensive to hire someone to do this messy job!  If you have a concrete driveway, it would be wise to fill any cracks and if needed, hire a concrete leveling company to fix any uneven slabs.
Clean your front windows to brighten the look of your home's façade. It doesn't have to be an arduous chore. In fact, there are washing products available that attach to your garden hose. You don't even need a ladder! Ask your local home improvement retailer for recommendations. I can recommend window cleaners who are very reasonable.
If you have hedges and shrubs, give them a trim. To keep your trimming level, use a wide board, or even a piece of cardboard, then cut to the desired height. Pull off any dead leaves or branches. Overgrown landscaping is a common problem that should be addressed. Sometimes, the best thing to do is remove the overgrown bush if it can't be easily trimmed. Never allow bushes to grow in front of windows and obstruct natural light. Of course, also mow the lawn!
Finally, inspect your property from the street. Can you see anything else you can do to quickly improve the look? Do you notice anything that is unsightly or distracting, such as garbage bins that could be relocated?